Equipment
DecaPress DP
Hiller Separation & Process US offers the complete range of DecaPress DP Model horizontal decanter centrifuges incorporating decades of mechanical knowledge and process experience to provide an effective, low-maintenance solution for continuous liquid-solids separation, liquid clarifying and / or solids dewatering with advanced mechanical features and superior processing performance.
Hiller DP Decapac Skid Mounted Centrifuge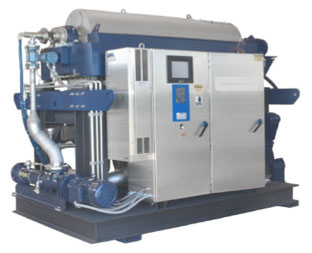 The Decapac features a complete dewatering system including centrifuge, feed pump, polymer system, all in one skid mounted package.
DecaPress (2) Two-Phase Decanter Centrifuges
The Hiller DP model decanter centrifuge is a highly engineered piece of process equipment designed to separate insoluble suspended solids from a liquid. These machines are flexible enough to cope with a wide fluctuation in the feed material and still achieve excellent clarification and dewatering performance producing a relatively dry separated solids cake on many processing applications.
DecaOil (3) Three-Phase Decanter Centrifuges

The Hiller DecaOil (3) three-phase centrifuge is a sophisticated solid-bowl centrifuge especially designed for highly efficient, simultaneous sedimentation of solids and separation of two immiscible liquid phases. Hiller high-performance decanting centrifuges achieve optimal process results with the highest possible level of reliability. The space-saving concept of the solid-bowl centrifuge, together with high efficiency and optimal process results, make Hiller DecaOil decanter centrifuges the first choice for many oil recovery and oil production applications.
Hiller Designs and Manufactures Decanter Centrifuges That Perform Beyond Your Expectations
Precision Engineering and Manufacturing: Hiller decanter centrifuges are designed and manufactured based on the collaborative team work and effort between factory engineers, field service technicians and plant operators to provide the most user-friendly, cost-effective, high performance decanter centrifuges available today. Each Hiller decanter centrifuge is computer designed and modeled before any manufacturing occurs at our state-of-the-art manufacturing facility in Vilsbiburg, Germany where computer aided CNC machining and experienced craftsmen produce components and equipment within precise tolerances. Hiller is ISO 9001:2015 certified and the ISO 9001:2015 QMS quality management system governs the manufacture of each decanter centrifuge.
Centrifuge bowls feature large diameter/length ratios of 1:4.2 and greater for superior separating efficiency
Centrifuge bowls are manufactured & computer balanced to exacting standards for smooth operation and centrifugal acceleration of 3,000 to 5,200 x "G" depending on bowl diameter
All rotating equipment is balanced and trimmed at actual operating speed before final assembly and testing of the complete system. Fluid dynamically optimized design of feed and discharge zones for maximum performance
Independent bowl and scroll drives are provided for minimal energy consumption and maximum control
Variable frequency main drive provides low energy starting and optimized operating speeds
Closed body scroll design minimizes product turbulence providing a higher solids transfer rate
Superior Hiller Equipment Features:
Automated operation with our proprietary control systems
Large range of bowl diameters: 150 - 840 mm
Covering a range of approx. 0.5–150 m³/h dewatering capacity
High performance machines for operation above 3000 x g
All modern scroll drive systems (Hydraulic and Mechanical / Electrical)
Choice of different scroll drive systems: Select "best option for application"
Choice of different wear protection systems: Select "best option for application"
In-house development and manufacturing of hydraulic components for scroll drive systems
All product contact surfaces and components available in stainless steel or high tensile strength carbon steel materials
Hiller Features That Translate into Superior Performance:
Centrifuge Bowl

Centrifugally cast duplex stainless steel construction for corrosion resistance and low deflection
Simplified two-piece construction to reduce vibration
Easily serviced without removing the main drive motor
Computer balanced allows operation over 3,000 G's

Centrate Discharge Weirs

Easily adjustable to optimize pond depth
Calibrated weir plates for easy setup and adjustment

Scroll

Closed body design to minimize turbulence and provide a high solids transfer rate
Sintered tungsten carbide abrasion protection package
Constant flight gradient to minimize turbulence and improve performance
Computer balanced to allow operation at greater than 3,000 G's
Continuously welded resulting in a very solid robust design

Feed Compartment

Designed to provide additional retention time for floc formation
Bell shape provides gentle transition to minimize floc destruction

Feed and Discharge Ports

Solid sintered tungsten carbide construction for long life
Easily replaceable

Feed Tube

Tapered construction to eliminate harmonic resonance
Oversized inner diameter to allow high flow rates with lower back pressure
Adjustable internal polymer tube for optimal injection point setting

Main Drive

Side mounted motor to allow for simplified bowl removal
Variable Frequency Drive (VFD) controller for operation at optimum speed

Bearings

100,000 hour L-10 bearings assure long service life
Grease lubrication system for simplified maintenance
Non-proprietary bearings for cost effective replacement

Base

Solid steel end plates for reduced vibration
Rugged welded steel box minimizes vibration and ensures stability

Casing and Cover

Stainless steel for durability and long life
Inspection plates for easy adjustment of critical components
Total Process Control: Hiller decanter centrifuges employ the latest in control design technology to simplify system operation and provide total process control. This Total process control philosophy combined with precision engineering and manufacturing, result in machines capable of producing maximum cake solids and solids capture with minimal energy consumption and reduced polymer dosages. The Hiller decanter centrifuge control panel provides total process control through a concise, easy-to-operate touch screen and standard control schemes that include:
Color touch screen operator interface (HMI) for system control and monitoring
PLC-based controller can operate centrifuge and entire dewatering system
One button system start-up and clean-in-place shut down
Torque-based control constantly monitors and adjusts scroll differential for maximum performance and highest cake solids
Modem for remote support, diagnostics, and program updates
Customized process solutions available
Key Factor in Centrifuge Performance: The relationship of scroll speed to feed solids is a key factor in centrifuge performance. A sophisticated method to determine scroll speed is needed for maximum centrifuge performance.
If the scroll moves too fast = wet cake results
If the scroll moves too slow = centrifuge fills with sludge and plugs
This is accomplished by measurement of scroll torque and using the torque value, through the control system, to determine scroll speed.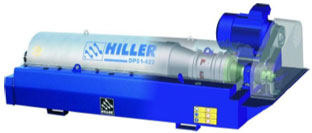 Hiller Automatic Differential Scroll Speed Systems and Controls: The scroll drive controls the differential speed between the scroll and the bowl and is critical to decanter centrifuge performance. This differential dictates the residence time of the solids in the decanter centrifuge, which has a direct correlation to cake solids concentration and capture efficiency. Obtaining and sustaining a consistent cake solids and capture efficiency requires a very sensitive scroll drive that responds rapidly to changes in sludge characteristics by making smooth, subtle changes in the scroll speed.
Hiller offers (2) two standard style Scroll Drive Systems (DecaTorque or DecaDrive) both supplied with highly-developed automated control units for either drive solution:
DecaTorque® Hydraulic Scroll Drive for maximum torque with shortest reaction times

The hydraulic scroll drive system consists of an electric main drive motor and hydraulic scroll drive motor, which turn the bowl and scroll independently. The fully independent hydraulic scroll drive has the ability to generate and sustain an extremely high degree of torque. This high torque capability, combined with a very rapid response time, allows the decanter centrifuge to consistently produce the highest cake solids.

Most powerful drive system on the market
Highest continuous operating torque
Automatic differential speed control based on torque
Instantaneous response to load changes
Very high tolerance against torque overload
Best cake dryness of all systems
Proven in many decades of successful operation in heavy duty applications

DecaDrive® Mechanical / Electrical Scroll Drive solution using frequency converters and electric motors

The mechanical scroll drive system consists of an electric main drive motor and an electric scroll drive motor, both controlled by independent variable frequency drives (VFD). This drive package uses a sophisticated energy recovery system that minimizes overall power requirements and operating costs.

Economically priced and easy maintenance
Automatic differential speed control based on torque
Regenerative system: Recycling of braking energy back into main drive
Centrifuge Maintenance: Centrifuge maintenance is relatively low. It is perfectly normal to run a centrifuge twenty-four hours a day, seven days a week. Hiller machines are extremely durable and reliable and require very few consumable spare parts on an annual basis. In most cases the greatest maintenance cost is created by abrasion to the surfaces in contact with metal. All susceptible surfaces are suitably protected with a variety of standard and optional abrasion protective surface materials or exchangeable wear components and liners for extended service life.
Hiller Offers a Variety of Internal Machine Wear Protection Options:
Standard Abrasion Resistant Components
Flame sprayed or sintered tungsten carbide tile assemblies on conveyor
Wear protected feed chamber coating or insert
Sintered tungsten carbide inserts on feed nozzles
Sintered tungsten carbide inserts on cake discharge
Scroll Conveyor Abrasion Protection
Flame Sprayed Hard-surfacing

Lower initial cost
Shorter time between rebuilds
More resistant to damage from debris
Flame sprayed wear protection applied at factory
Not field replaceable / must be repaired off site at approved service center

Flame Sprayed Conveyor

Sintered Tungsten Carbide Tiles

Higher initial cost
Longer time between rebuilds
More susceptible to damage from debris
Sintered tungsten carbide tiles are pre-mounted on backup plates
Tiles are field replaceable

Sintered Tungsten Carbide Tile Assemblies

Sintered Tungsten Carbide Feed Bushings

Extremely resistant to abrasion
Field replaceable
Easily replaced without special tools




Feed Chamber

Replaceable polyurethane liner (available only on larger models)




Solids Discharge Bushings


As a convenience to our customers Hiller-US will offer customized annual service contracts with Hiller Service Technicians dispatched from both Germany and USA. Plus Hiller has established a net-work of factory approved regional independent repair shops as a supplemental alternative for long term machine life and serviceability.
Hiller Separation & Process US based in Lampasas, Texas is the factory direct sales and support office servicing North America for Hiller Separation & Process GmbH of Vilsbiburg, Germany.
Top of Page