Home
> Food and Beverage Processing Applications
Food and Beverage Processing Applications
Hiller DecaFood machines provide world-class standards for high-performance decanter centrifuges and the modern range of Hiller DecaFood Decanter Centrifuges reflects our ongoing commitment to mechanical development and process optimization for a wide variety of food processing technologies. Applications such as fruit and vegetable juices, spice extraction, wine, grape must production or dregs processing are only some of the examples where the DecaFood system can be applied. As our customer you benefit demonstrably from a variety of advantages, compared with the conventional manufacturing process as well as with less specialized food and juice centrifuges.
Hiller DecaFood decanter centrifuges are specially designed constructed according to specific product requirements without losing their processing versatility. The main focus centers on the high hygienic standard for all systems designed for the food industry. Therefore Hiller is able to offer the complete DecaFood series as compact units combining all necessary components compliant with food safety requirements.
HILLER decanters are not only extremely efficient, but they are also based on an ideal process for the food and beverage industries. Closed Systems prevent Oxidation, ensure gentle processing and meet the highest cleanliness and hygiene requirements. Hygienic designs and systems complete with effective Cleaning in Place (CIP) systems make Hiller DecaFood centrifuges a first choice for use in the dairy, oil, butter, cheese, veg. oil, fruit juice, cider, coffee, yeast separation, wine, etc.
Hiller DecaFood decanters and systems can be found in a variety of food applications:
Production of olive oil and avocado oil
Clarification of kernel and seed oils after pressing, e.g. rape seed oil
Fruit juice production, e.g. from apples, pears, cherries, berries, grapes
Vegetable juice production, e.g. from carrots, beet root
Processing of citrus fruits in juice production, and pectin production
Juice recovery from tank bottoms
Root extracts
Starch recovery
Wash water recovery, e.g. from potato washing
Meat processing: Tallow recovery, fat clarification, blood dewatering
Dregs reduction
Separation of un-dissolved starch
Reduced oxidation
Increase of DS
Prevention of recontamination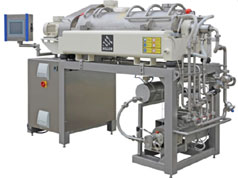 Process ideally suited for many food and juice applications:
Quality intensification
Increase in production
Gentle processing method
Low cleaning expenditure
Hygiene and cleanliness
Reduced formation of odors
Surfaces suited to food products
Operating equipment suited to food production
Hiller DecaFood Decanters feature a long list of advantages that make these machines an ideal solution for improving product quality and optimizing a wide variety of food and high value processes:
Higher production yield rates for greater profit
Reduced process time between fresh fruit feed and product discharge = Virtually no oxidation and no enzymatic degradation
Continuous process: no buffering of crushed raw products
Very versatile and flexible - one machine can be used for many products
Production parameters for different products can be set & stored as selectable pre-set "recipes"
Easy to operate and adjust on the fly
No wash water required during operation
Virtually no heat loss (very short hydraulic retention time and closed design)
Highest hygienic standards - fully enclosed, CIP, N2-blanketing possible
Very small footprint
Continuous operation
The economic advantages of Hiller decanters speak for themselves. Compact sanitary designs, simple operation and superior machine construction produced from high-quality stainless steel minimize whole life costs and guarantee long term operation.
Hiller decanters are not only extremely efficient and reliable; they are also ideally designed for the needs of the food and beverage industries. Hiller decanters feature sealed systems to prevent oxidation, ensure gentle processing while meeting the highest sanitary requirements and standards for hygiene.
Economical Hiller DecaFood Decanter Operation:
Waste water reduction
Reduced space requirement
Economic use of personnel
Reduced operating costs
Optimized energy balance
Corrosion resistance
Reduced service and maintenance costs
High durability
Reduced fresh water usage
Reduction of additional equipment and / or processes – High speed separator no longer necessary
High capacity and throughput:
Maximum rotating speeds / RPM for high centrifugal force
Automatic cleaning sequence with CIP cleaning
Adjustable degree of clarification through Hiller index ring technology
Fewer separating stages
Simple process guidance
Programmable systems
Important mechanical features:
Solid-Liquid Separation (2 phases)
Solid-Liquid-Liquid Separation (3 phases)
Automatic mode through control systems developed in-house
Protection in a closed system
Excellent surface finishes
Conventional scroll drive system
Hiller DecaFood decanters are able to process at high capacity levels up to 100,000-lbs per hour with maximum process flexibility. Our proprietary control system provides quick and easy process optimization ensuring repeatable operation, short cleaning cycles and quick repeatable setup times as well as the ability to make adjustments during the production process.
Top of Page