Pharmaceutical Processes
Hiller DecaChem® & DecaPharm® decanter centrifuges are specially designed constructed according to specific product requirements without losing their processing versatility. The main focus for these specific applications centers on high hygienic standards, materials of construction and specialized configurations of all Hiller decanter centrifuge systems designed for use in pharmaceutical and chemical processing industries.
Safe Process: The treatment process in chemical and pharmaceutical industrial plants must be safe and trouble free. High-quality stainless steel grades and a wide range of wear protection measures ensure long life and high product quality.
High plant availability: A plant must work reliably and economically over its entire service time. The high quality and specialized features of Hiller decanters mean customers can expect low life-cycle operating costs and long equipment life as part of an outstanding ROI.
Hiller DecaChem® & DecaPharm® decanter centrifuges are available in a wide variety of configurations and materials to provide maximum process optimization:
High yields
Pressure-resistant housings
Gas-tight housings
Explosion protection
Espay sealing cassettes
Special materials: Super-Duplex Stainless Steel, Hastelloy, Incolloy, Inconel, titanium coatings
Hygiene and cleanliness
Low sound level
Automatic cleaning process through CIP cleaning
Hiller DecaChem® & DecaPharm® decanter centrifuges are designed and configurable for applications demanding high performance equipment:
High solids loads
Gentle processing
Low residual moisture contents
High-torque drives (electric or fully hydraulic)
Adjustable degree of clarification through centripetal pump technology
Continuous fully automatic operation
Fewer separating stages
Simple process guidance
Hiller DecaChem® & DecaPharm® decanter centrifuges are also designed to be economical to operate and maintain over the life of the equipment: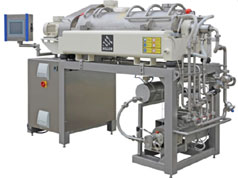 Long-life wear protection
Low personnel costs
Reduced operating costs
Optimized energy balance
Corrosion resistance
Long life
Reduced service and maintenance costs
Hiller decanters are not only extremely efficient, but they are also available as complete and compact systems including all the necessary components compliant with pharmaceutical and chemical processing facility safety requirements.
Top of Page