Fruits and Vegetable Juices
Fruit and vegetable juice industry: Fruit and vegetable juice production from nearly all kinds of fruits and vegetables such as apples, pears, cherries, plums all kinds of berries plus juice extraction from vegetables like carrots, beetroots, tomatoes, etc.
More effective fruit juice production and juice recovery from:
Apple juice
Pear juice filtration dregs
Orange juice
Grape juice
Lychee juice
Raw currant juice
Yeast recovery
Cherry juice
Elder juice
Juice extraction from melons
Vegetable juice
Pulp reduction (orange juice)
Cranberry juice of various products
Blueberry juice
Carrot juice beverages
Processing of tropical fruits:
Starch separation from juices
Plum mash - Mash production
Juice extraction with dregs adjustment
Dregs reduction after conventional pressing process
Peel oil extraction
Smoothie production:
Separation of all settle-able solids (cores, peels)
Production of fruit mash
Viniculture and grape pressing:
Grape must extraction
Yeast separation
Processing of flotation dregs and fining dregs
Wine production
3-phase fruit application: One example for a 3-phase application is the production of sallow thorn oil: Fruit pulp, fruit juice and oil are extracted in only one production step.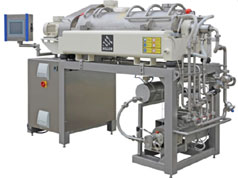 Process ideally suited for many food and juice applications:
Quality intensification
Increase in production
Gentle processing method
Low cleaning expenditure
Hygiene and cleanliness
Reduced formation of odors
Surfaces suited to food products
Operating equipment suited to food production
Juice production processes:
Fresh and high-quality juice extracted from fruit and vegetables has become much more than just a simple drink. All sorts of aspects (such as authentic taste, freshness and the proportion of healthy raw ingredients) have been steadily moving into consumer consciousness. In addition, the range of fruit and vegetables being processed has been constantly increasing.
Exotic and extraordinary juices and juice mixtures stopped being the preserve of health food stores some time ago and are now increasingly available on supermarket shelves. This combination of greater product variety and new or rather changed quality requirements naturally has an effect on the requirements concerning how the juices are produced. Fast transition times between the various raw products, efficient processing of both fresh produce and stored goods, the ability to preserve vitamins and antioxidants, hygiene and easy cleaning - these are just a few of the key concepts that characterise modern juice production.
In this challenging environment, the DecaFood system steps up as the production tool of the future. At the system's core lies the DecaFood high performance decanter, a machine that has been specially developed for juice and must production. A decade of research and development was dedicated specifically to creating this machine. To exploit the full potential of this device, carefully selected and coordinated peripheral components are added to create the DecaFood system. This provides production managers with a production tool that scores maximum points in every respect. The DecaFood system offers a hitherto unparalleled degree of flexibility, while also offering numerous additional benefits from a quality and financial perspective, regardless of whether you need to process pomaceous fruit, stone fruit, berries, tropical fruit or vegetables.
Direct, stable, cloudy juices with adjustable overall pulp content
Adjustable juice characteristics from "clear" "cloudy" and "smoothie" right through to "purée"
Removal of unwanted solids such as stone cells, fibres, skin particles, or even particulate starch in a single operation
Low level of oxidation, thereby minimizing the impact in terms of colour and taste and helping to retain vitamins, antioxidants, etc.
Easy processing of storable fruit/vegetables
The DecaFood system achieves high yields without enzyme treatment and without time on the pulp (e.g. when producing natural cloudy direct juices). However, the system can also be used in conjunction with enzymatic digestion or raw product pretreatment to achieve yields that were previously only possible with much more sophisticated kinds of production systems.
If used in conjunction with the Hiller control system, the optimised, compact design permits rapid product changeovers with simultaneous adjustment of all production-related parameters to meet the requirements of the new product. This holds true across all products and production methods.
Top of Page