Home
> Brewery and Winery Applications
Brewery and Winery Applications
Hiller DecaFood decanter centrifuges combine the experience of more than 40 years in decanter construction and production with the latest operational knowledge in various fields of food and beverage technology. The wine, brewing and spirits industries are only some of the examples where the DecaFood system can be applied.
Hiller DecaFood centrifuges are specially constructed according to product requirements without sacrificing versatility. The main focus is placed on the high hygienic standard for all systems designed for the beverage industry. Therefore Hiller is able to offer the complete DecaFood series as compact units which combine all necessary components compliant with food safety requirements.
Hiller DecaFood Decanter Centrifuges for the wine industry
The art of winemaking has been enriching our lives with its products for millennia. It has given rise to a plethora of grape and wine varieties, which is further multiplied by the variations and nuances that arise from different growing regions, vintages, production processes, and from the personal touch of the winemakers. This enormous variation places great demands on the flexibility of systems used for pressing and vinification. In addition, these systems must be able to cope with the varying output levels caused by seasonal fluctuations.
In this challenging environment, the Hiller DecaFood System steps up as the production tool of the future. At the system's core lies the DecaFood high performance decanter, a machine that was specially developed for use in the winemaking sector. Hiller DecaFood high performance centrifuges utilize the latest in modern separating technology for a traditional product providing an unparalleled degree of flexibility, while also offering numerous qualitative and economically beneficial features:
Red wine: processing of mashes from mash heating or mash fermentation, individually adjustable, optimal colour and tannin yield
Weißherbst/rosé: adjustable colour intensity
White wine: low phenolic content, maximum grape aroma/fresh aromas
A decade worth of research and development was dedicated specifically to creating the Hiller DecaFood centrifuges and it now gets top marks in regards to yield, must quality, machine flexibility, user friendliness, reliability and hygiene. The Hiller DecaFood system achieves high yields without enzyme treatment. Shorter or no mash rest times prevent undesirable microbiological activity and chemical changes in the must as well as raised phenol levels. For this reason Hiller musts have a sensory, olfactory and analytical quality that far exceeds conventionally produced musts. The centrifuge system can produce musts that even meet champagne quality requirements.
The totally optimized and compact Hiller DecaFood design combined with the proprietary Hiller control system permits rapid variety process changeovers with simultaneous adjustment of all product-related processing parameters to meet the requirements of the new variety, including an adjustable yield.
Furthermore the Hiller DecaFood centrifuge can be applied for the processing of sweet lees as well as for many more separation tasks after the wine season producing equally high quality production results and yields without needing any modifications. Other uses and processes may include:
Processing of flotation solids
Processing of unfermented tank bottoms
Processing of fining residues (bentonite, activated carbon, etc.)
Processing of fermentation lees
Processing of sediments from deacidification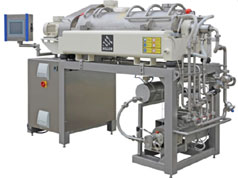 You, too, can profit from the advantages of a Hiller DecaFood system:
Quality intensification
Increase in production
Gentle processing method
Low cleaning expenditure
Hygiene and cleanliness
Reduced formation of odors
Surfaces suited to food products
Operating equipment suited to food production
Hiller DecaFood Decanter Centrifuges for the brewing and spirits industries:
Hiller DecaFood high performance decanter centrifuges are not only extremely efficient and reliable; they are also ideally designed and well suited for the specialized needs of the brewing and spirits industries. Hiller decanters feature sealed systems to prevent oxidation, ensure gentle processing while meeting the highest sanitary requirements and standards for hygiene.
A sample of the applications found in the brewing and spirits industries include:
Separation of beer wort and brewer grains
Yeast separation
Wort extraction / clarification
Subsequent dewatering of brewer grains
Fermentation liquors
Distillation residues
The economic advantages of Hiller decanters speak for themselves. Compact sanitary designs, simple operation and superior machine construction produced from high-quality stainless steel minimize whole life costs and guarantee long term operation.
Hiller DecaFood decanters are able to process at high capacity levels with maximum process flexibility. Our proprietary control system provides quick and easy process optimization ensuring repeatable operation, short cleaning cycles and quick repeatable setup times as well as the ability to make adjustments during the production process.
Hiller DecaFood Decanters feature a long list of advantages that make these machines an ideal solution for improving product quality and optimizing a wide variety of high value processes:
Higher production yield rates for greater profit
Product discharge with virtually no oxidation
Continuous process
Very versatile and flexible - one machine can be used for many products
Production parameters for different processes can be pre-set & stored as selectable recipes
Easy to operate and adjust on the fly
No wash water required during operation
Virtually no heat loss (very short hydraulic retention time and closed design)
Highest hygienic standards - fully enclosed, CIP, N2-blanketing possible
Very small footprint
Continuous operation
Economical Hiller DecaFood Decanter Operation:
Waste water reduction
Reduced space requirement
Economic use of personnel
Reduced operating costs
Optimized energy balance
Corrosion resistance
Reduced service and maintenance costs
High durability
Reduced fresh water usage
Reduction of additional equipment and / or processes
Plus Hiller understands the importance of reliability when it comes to equipment involved in food and other high value processes. That is why you can depend on Hiller decanters which are supported with our worldwide 24-hour service for maintenance, repair and spare parts.
Top of Page